JARDINES DE LA REINA (CUBA)- Silky sharks spend most of their day in the upper water column, but also dive to the depths of the ocean, as deep as over 600m. This was shown by the results of a joint US-Cuban research mission in marine park Jardines de la Reina.
Mote Marine Laboratory scientists and their Cuban colleagues are celebrating the publication of a study on the movement of three female silky sharks (Carcharhinus falciformis) tracked by satellite-linked tags off the Caribbean coast of Cuba.  This study is the result of the first expedition in Cuban waters to satellite-tag sharks, in accordance with Cuba's National Plan of Action for Sharks, adopted in late 2015.
In a special Cuba edition of Bulletin of Marine Science, the peer-reviewed study sheds light on the life of this vulnerable species.
Silky Sharks
The study reveals results from a 2015 expedition, in which the scientific team tagged three silky sharks in the Jardines de la Reina (Gardens of the Queen) National Marine Park off Cuba's south coast. Each tagging was a dream come true for the U.S.-Cuban scientific team that had worked for years to obtain permission and resources to place the first satellite tags on sharks of Cuba.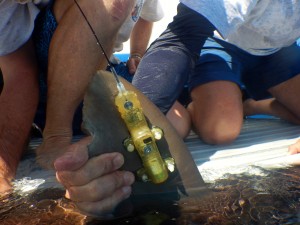 "Our dream was to be able to deploy satellite tags on sharks in Cuban waters, on both the north and south coasts, in an equal partnership of Cuban and American research teams," said Dr. Bob Hueter, Director of the Center for Shark Research at Mote. "We were able to accomplish these goals for the first time with this expedition."
Eco-tourism
The tags revealed that the sharks had made movements away from the inshore reef area where they were tagged and into deeper offshore waters, spending most of their time in the upper water column but also diving during the day. One of the sharks reached a maximum depth of 2,073 feet (632 meters). This was a notable observation due to the sharks' consistent visits to the same eco-tourism dive spots known for attracting sharks with food.
"The data revealed that these sharks were not confined to the reef where the eco-tours take place," said Hueter. "The sharks left the area regularly, which demonstrates that they were not dependent on the diving charters for their next meal. This leads us to believe that they were likely foraging off the reef and offshore in deep water in a natural way."
Read more at Mote Marine Laboratory.