Of all sharks, the bull shark has always been one of the most intriguing to me. It is found thousands of miles upstream in rivers and lakes and is one of the fiercest species around. But mainly because I've never seen one. I have been out on dive sites expecting to meet them but always without luck. So where are the chances the biggest to meet one of these most awesome predators of the sea?
Shark Reef Marine Reserve (Fiji)
Just off the southern coast of Viti Levu, Fiji, on the edge of Beqa Passage lies an innocuous patch reef; Shark Reef Marine Reserve. If shark diving is your passion, this is the place to be. This is Fiji's first Marine Reserve, established in 2004 by local villages, the Fiji Government and  Beqa Adventure Divers, and it is fully dedicated to the protection of Sharks. If you want to see bull sharks, this is the place to be. There is even a special bull shark tagging program going on.
To top it off. You will not only encounter bull sharks, but 7 other species: Whitetip Reef Sharks, Blacktip Reef Sharks, Grey Reef Sharks, Tawny Nurse Sharks, Sicklefin Lemon Sharks, Silvertip Sharks and impressive Tiger Sharks. There in total close to 400 species of fish living in these waters.
When?
Bull sharks are common on Shark Reef between January and October.
Conditions?
10-30m depth. Due to the depth of the dive, this one is only for experienced divers with at least 30 dives, with 5 or more in the 30m/100ft range.
Access?
4 km from Pacific Harbour, accessable through Viti Levu and Beqa dive resorts.
'The Big Scare', Islas Murcielagos (Costa Rica)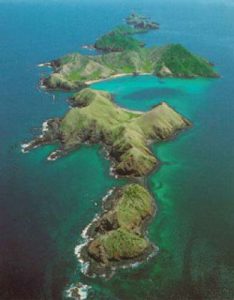 Another great place to encounter the bull shark are the Bat Islands off the Pacific coast of Costa Rica. The waters here are part of Santa Rosa National Park, which means they are protected and filled with life. One dive and you will quickly realize why everyone makes such a big fuss about diving here: different species of sharks, manta rays, turtles, even orcas and other whales, marlin, sail fish, and huge schools of fish such as ladyfish, jacks, snapper, spade fish and many more. There is one dive site called 'The Big Scare', where the top attraction are massive bull sharks that come here in the summer and fall months. With a little luck you might also see tiger sharks or even the occasional mako shark.
When?
Bull sharks are most common between may and november.
Conditions?
With possible rough surface conditions and unpredictable underwater currents this is a dive for experienced and advanced certified divers. The underwater sight can be challenging when the seas are choppy. Imagine then meeting a big bold bull shark.
Access?
1hr by boat from Playas Del Coco.
Bahia de Nuevitas, Santa Lucia (Cuba)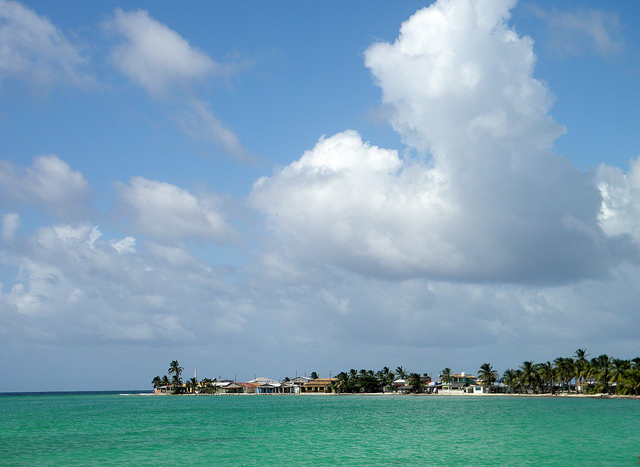 At about 30m deep in the channel of the Bahia de Nuevista off the Atlantic northern coast of Cuba, everyday bull sharks gather between november and january. In this channel fresh water from nearby marshes and mangroves mixes with the sea. The bull sharks have become a tourist diving attraction, although it is for experienced divers only. Not only do you go down to 30m, you also need to be able to stay quiet to not scare off the sharks. Local divers have made it into a feeding event, handfeeding the sharks. The area is also full of shipwrecks, like the Nuevo Mortera, where a rich variety of sea life can be encountered like big green moray eels.

When? Bull sharks here are most common between november and january.
Conditions? The sharks are found down at 30m deep, there can be currents. Also a dive for more experienced divers.
Access? Santa Lucia resort
Jardines Deep, Playa del Carmen (Mexico)
The Caribbean coast of Mexico is not just a winter destination for Europeans and North-Americans. Also bull sharks from the North-Atlantic head down every year to the crystal clear warm waters off the Yucatan peninsula to breed. They often arrive in early November till the middle of December and stay until the mid or end of March. At depth of around 25m you can come eye to eye with huge bull sharks. The visibility here is usually around 15-20m so you can actually see them coming to you from a distance. For several years now, bull-shark dives have been actively promoted in Playa del Carmen. There is some debate about divers luring the sharks with bait to more shallow waters. Not only does it change the feeding pattern of the sharks, they might to start to rely on divers for their food and start to associate divers and even swimmers with food. But maybe more pressing, the sharks are now more in risk of being caught by fishermen. Bull sharks are not a protected species in Mexico. It's good to shop around to see which dive operators make the dives without bait. There are numerous dive shops in Playa del Carmen.
When? The bull sharks are here between november and march. Then they head north again.
Conditions? Great visibility. Depth of around 25m, some diving experience needed.
Access? Playa del Carmen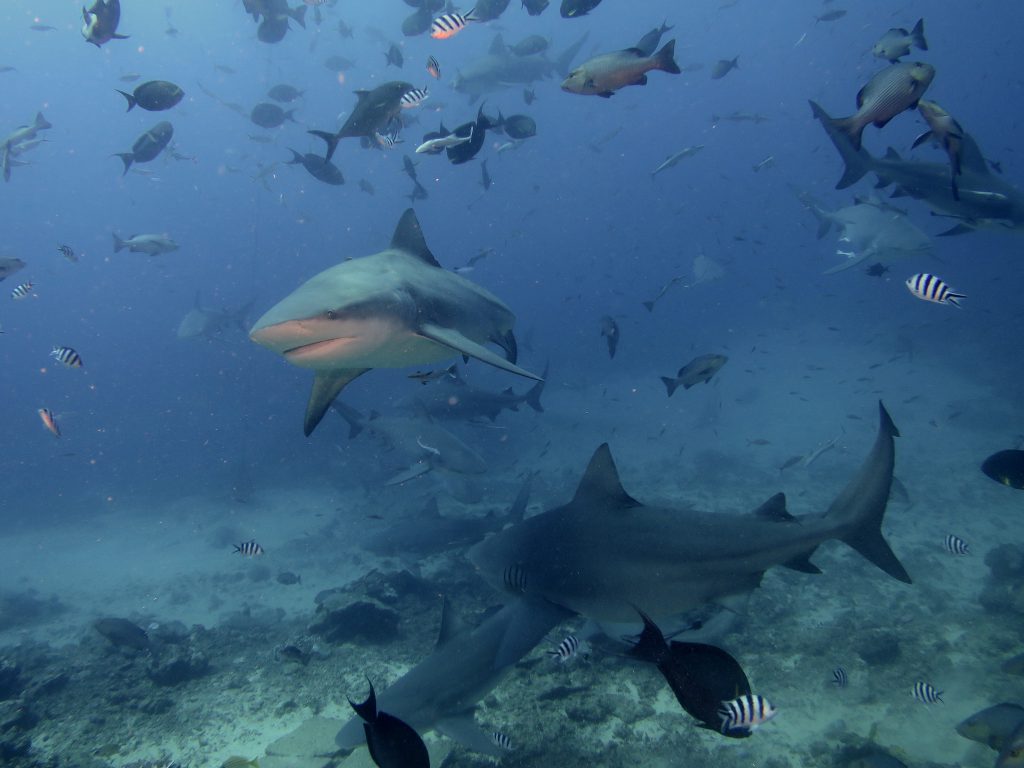 Pinnacles Reef, Ponta da Ouro (Mozambique)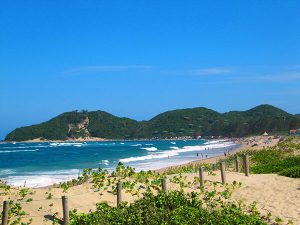 There are over 20 dive sites on the reefs of Ponta do Ouro, Ponta Malongane and Ponta Mamoli. This is the home to an amazing and bio-diverse marine life primarily famed for shark encounters. At the edge of the continental shelf lies the dive site of Pinnacles. Thé place to meet bull sharks. Because the Pinnacles rise off the ocean floor from 50m to 29m, the area acts as an oasis drawing fish to the area and it attracts large numbers of bull sharks during the summer months. Also you will meet other species of sharks. 19 species have been identified, such as hammerhead and dusky sharks. This location is also used for shark research. The 3 Fathoms Bull Shark Project has been running here since 2009. Using innovative techniques, like in-water sampling and acoustic tagging, they are answering questions about these sharks to ensure the conservation of this species and others in the area.
When? From september to april the bull sharks are at Pinnacles.
Conditions? Pinnacles is a site for more experienced divers, as there can be strong currents.
Access? 3.5km off the dunes of southern Mozambique. Ponta do Ouro is a surfers town and you have to go by boat first through the surf to reach the reefs.