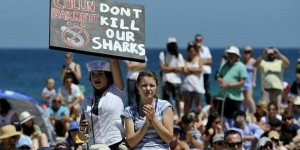 PERTH (AUSTRALIA)- The Western Australian government is jeopardising beach safety by using tagging data to track a great white shark it has marked for culling.
So say shark experts in The Guardian in reaction to the announcement of the State's Department of Fisheries Friday that it would deploy capture gear to "take" a tagged white shark. This shark had been repeatedly detected by the acoustic receiver at Warnbro Sound, near Rockingham, about 50km south of Perth.
The shark is, according to the department "been assessed as posing a serious threat to public safety".
Imminent threat
But a University of Sydney shark policy expert, Dr Christopher Neff, said classifying a shark as an imminent threat on the basis of scientific tagging data went against the purpose of tagging, which was to study their movements as an indication of what the wider, untagged shark population might be doing.
A step backwards for science
He said using that data to track and kill a white shark was unheard of and had angered scientists."Tagging provides an early warning system, and by killing that shark you are killing the early warning system," he said to the Guardian. "It's a step backwards for science and for beach safety."
The tagged white shark, believed to be female, has been detected swimming near the Warnbro Sound receiver for about two weeks. Each detection by the receiver has been broadcast on the Surf Life Saving WA Twitter feed, and the government's SharkSmart website. The last detection was at 3.48am on Sunday.
Shark cull
Drumlines were put in the water on Friday, Saturday and Sunday, catching a tiger shark and a stingray. Warnbro Beach has been closed.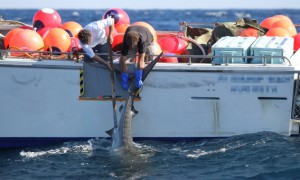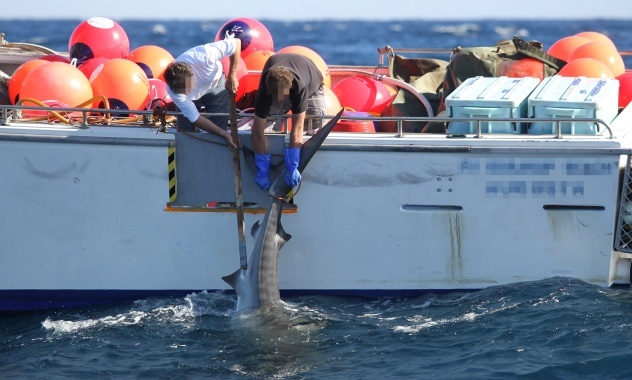 Under WA's Imminent Threat Policy, sharks are considered to pose an 'imminent threat to public safety' if they are reasonably suspected to have been involved in an attack, or if they are of a species 'with a history of attacking people' and have repeatedly been sighted near a popular beach during daylight hours.
At the same time the government's Shark Hazard Mitigation Decision Sheet, published in November 2012, warns against killing tagged sharks: "Capturing a tagged shark may eliminate a key indicator of a temporary high hazard in the proximity of a popular beach."
Read more at The Guardian.