2014 is over! But it turned out to be an exceptional year with more shark species receiving international protection and more water reserves to protect sharks and other marine species. Unfortunately of the west coast of Australia sharks are still under menace of the so-called shark cull. To look back at the past year here are the 6 Best Read Stories on SharkNewz of 2014!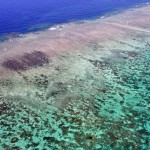 1. Fatal attack at Great Barrier Reef
PORT DOUGLAS (AUSTRALIA)- A 18-year old man was killed by a shark while spearfishing on Australia's Great Barrier Reef. Local media say the man was mauled to death while fishing with friends off Rudder Reef, near the eastern Australian tourist town of Port Douglas.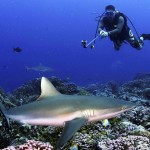 2. Shark Tourism is worth more than fin trade
VANCOUVER (CANADA)- We all knew it of course, but scientists now have put down economical proof. Sharks are worth a lot more in the ocean than in a bowl of soup. That's the conclusion of a research conducted by a team of the University of British Columbia. A new study, published today in Oryx – The International Journal of Conservation, shows that shark ecotourism currently generates more than US$314 million annually worldwide and is expected to more than double to US$780 million in the next 20 years.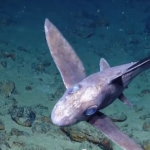 3. Ghost shark appears in the deep
ST.GEORGES (GRENADA)- Researchers found the elusive ghost shark in the deep waters off the Caribbean isle of Grenada. The creepy looking shark has bright blue transparent eyes and a slightly sinister grin. The footage was captured by a remotely-operated submersible vehicle that had originally been sent down to explore an underwater volcano, known as Kick'em Jenny, off the coast of the Caribbean island of Grenada. Ghost sharks, also known as chimaera, could be the oldest and most enigmatic groups of fishes alive today, according to some.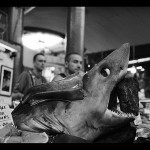 4. Porbeagle shark still at risk
HALIFAX (CANADA)- The future for porbeagle sharks is still not looking too bright. A decade after being declared an endangered species only a quart remains of the population that was around in the '60's. The porbeagle shark remains at risk, says a group of Canadian scientists. The Committee on the Status of Endangered Wildlife in Canada (COSEWIC) re-examined the porbeagle's endangered status last week in Halifax — and this week re-confirmed it.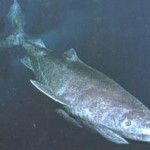 5. Are Lake Monsters just sharks?
ILIAMNA LAKE (ALASKA)- The elusive Lake Iliamna monster might be nothing more than a Pacific sleeper shark. It's a hypothesis that scientist Bruce Wright will explore this summer. In fact, it hooks on to another theory of another lake monster. That of Loch Ness. Some say that is also a shark. At the website of the Alaska Dispatch debates have been going on about the Iliamna Lake monster. Wright is senior scientist at the Aleutian Pribilof Island Association and will do more research on this shark theory. He also wrote the books  'Ecology and Conservation of Alaska's Predators' and 'Alaska's Great White Sharks'.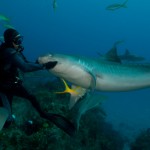 6. Brasil warns football fans for sharks
RECIFE (BRASIL)- Football fans visiting the Brasilian city of Recife for the World Cup may not know that the city is famous not only for football or colonial history, but als has a rep for being one of the most dangerous places in the world to swim. The risk of shark attacks is high if you look at the past few years. Fans are being met by warning signs in English and Portuguese, and newly-built watchtowers where lifeguards keep a close eye on bathers. The Boa Viagem beach suffers a high number of shark attacks and an above-average number of fatalities, and local authorities are keen to avoid any incidents during the World Cup.
 Follow us also in 2015 here on the website or on Twitter!!!