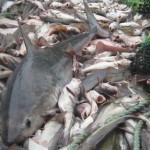 TORONTO (CANADA)- Reefs worldwide are under pressure. Not only because of global warming and pollution. Shark fishing is another important factor in the decline of coral reefs, according to a joint study of Canadian and Australian scientists.
Where shark numbers are reduced due to commercial fishing, there is also a decrease in the herbivorous fishes which play a key role in promoting reef health. That's what the researchers discovered in a long-term monitoring of reefs off Australia's northwest coast.
Food chains
The study, which will appear in the September 28 issue of journal PLOS One, suggests that where shark numbers are reduced, there is a fundamental change in the structure of food chains on reef.
The research was funded by the Natural Sciences and Engineering Research Council of Canada and Woodside Energy of Perth, Australia.
Predators
The researchers saw increasing numbers of mid-level predators — such as snappers — and a reduction in the number of herbivores such as parrotfishes. The parrotfishes are very important to coral reef health because they eat the algae that would otherwise overwhelm young corals on reefs recovering from natural disturbances.
The reefs studied are about 300 kilometers off the coast of northwest Australia where Indonesian fishers target sharks — a practice stretching back several centuries and which continues under an Australian-Indonesian memorandum of understanding.
Read more at the Summit County Voice.