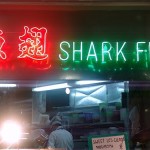 HONG KONG (CHINA)- The pressure is on. Last weekend the government of Hong Kong officially declared it would stop serving shark fin at official functions as "a good example," following years of lobbying by conservation groups.
The southern Chinese city is one of the world's biggest markets for shark fin, which is viewed by many Asians as a delicacy and is often served as a soup at expensive Chinese banquets.
Along with shark fin, bluefin tuna will also fall under the ban, which was prompted by what authorities called "conservation concerns."
"The exclusion of the items from official menus is a start and also serves as an example of raising public education and awareness on sustainability," a government spokesman said in an official press release.
"The government is determined to take the lead and set a good example on this front," he said.
Trade in shark fin is not regulated in Hong Kong except for three species — basking shark, great white shark and whale shark — where the trade is restricted under the Convention on International Trade in Endangered Species of Wild Fauna and Flora (Cites), to which Hong Kong is a signatory.
Read more at Jakarta Globe