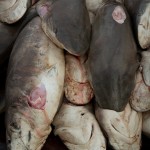 ALBANY (USA)- The US state of New York is banning trade in shark fins starting next summer.
The eastern coastal state follows the example of California and other western coast states in their efforts to protect sharks.
73 million sharks killed
An estimated 73 million sharks are killed worldwide every year to meet the market demand of shark fins, mainly for the Chinese market, where shark fin soup is a delicacy.
Shark finning
Finning of sharks – catching them, cutting off their fins, and returning them to the water to die – is already illegal in U.S. and New York coastal waters.
New York is home to one of the nation's largest Chinatowns.
Dogfish
The law takes effect July 1. It accommodates some demand by allowing the sale of fins from two species of dogfish, considered the most abundant shark in the North Atlantic.