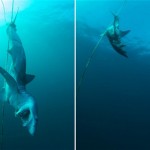 ADELAIDE (AUSTRALIA)- Divers in the HMAS Adelaide marine reserve, about 60 miles north of Sydney were shocked by the sight of a two metre long mako shark, hanging dead and mutilated upside down in the water hanging by the tail.
Who did this barbaric thing is not yet known. The shark was discovered by a local builder and marine photographer, Robbert Westerdyk, during a dive who took the photos at The Telegraph.
It had been stabbed in the chest, had its tail tied round a marker buoy and is believed to have been left hanging for several days.
Read more at The Telegraph.