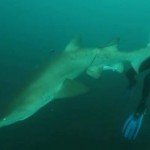 BYRON BAY (AUSTRALIA)- A rescue team of Sea World saved the life of a grey nurse shark found at Julian Rocks. It was entangled with a 1m long hook and trace stuck in its mouth.
The rescuers of the endangered shark was called in by a volunteer diver from Sundive Byron Bay and the NSW Department of Primary Industries. They feared the 2,4 meter long shark would starve to death.
In order to free it, the team had to capture the shark, exhaust it and bring it aboard their boat, Sea World One, so the hook and trace could be surgically removed.
"With less than 1500 of the critically endangered Grey Nurse Sharks living along the east coast of Australia, every single animal is so important", said Sea World director of Marine Sciences Trevor Long to the Northern Star.
The shark was expected to make a full recovery.
See a video of the rescue at the Northern Star.