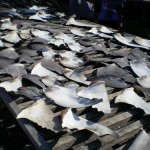 RAJA AMPAT (INDONESIA)- 13 Philippine fisherman were caught illegaly fishing for sharks and turtles in the Raja Ampat Archipelago in Indonesia. All of them were sentenced to 8 months in jail while the boat and all its equipment was confiscated and destroyed.
It is not uncommon for illegal fishermen to be caught by patrol teams in the Bird's Head Seascape. But it is common that formal prosecution processes following their arrest are often ineffectual. This case's successful prosecution represents a significant milestone for the Raja Ampat government in its fight to protect these beautiful, vital waters — and without the strong cooperation of local communities, this result would not have been possible.
Read more at Conservation Internationals's blog Human Nature.