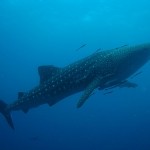 KHOBAR CREEK (PAKISTAN)- Pakistani fishermen who caught a juvenile whale shark have successfully released it without any injury in the offshore waters of the country. They struggled for an hour to safely release the shark
The coast of Pakistan is considered to be an important breeding and basking ground for whale sharks. Neonates, juveniles and sub-adults are commonly found in the area.
Gillnet
The whale measuring 12 feet in length was entangled in a tuna gillnet in the offshore waters off Khobar Creek about 193km of the south of Karachi. There are no aimed fisheries for whale sharks in Pakistan. Its meat is neither consumed in the country nor exported.
Poultry meal
However, fishermen extract oil from its liver and use it to smear the hull of fishing boats to keep it smooth. The meat is used to convert into poultry meal. When entangled in a net, the whale shark usually damages the net, causing big losses to the fishermen. Fishermen would, therefore, kill these giants in order to protect their nets.
WWF
The World Wide Fund-Pakistan (WWF-P) had initiated a campaign to create awareness and train fishermen about the procedure to safely release entrapped sharks. Through these efforts, a whale shark measuring 3.5 metres was released on May 14 near Sapat, Balochistan, and another measuring three metres was released near Khobar Creek, Sindh coast, on September 24 this year.
Read more at the Express Tribune.