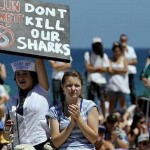 PERTH (AUSTRALIA)-  The Western Australia's Government confirmed that 17 tiger sharks were killed on the drumlines set out under under Western Australia's controversial new shark policy. There has never been a fatal tiger shark attack in Western Australia's waters.
The drum line initiative is part of a $23 million shark hazard mitigation program, better known as the 'Shark Cull'
Madness
Under the policy, bull, tiger and great white sharks longer than three metres that are caught on drum lines within one kilometre of parts of the WA coast are being shot dead and discarded at sea. In a world where our ocean's are being overfished and millions of sharks are being caught every year only for their fins, this seems total madness.
Mass killing
In total 66 sharks have been killed in the so-called 23 in the South West and 43 in the metropolitan area. No great whites were killed. Sixty-three were tiger sharks, two were mako and one was a blacktip shark. The South West contractor has disposed of 13 tiger sharks more than three metres in length and released six smaller sharks since January 25.Department of Fisheries crews at five metropolitan beaches have disposed of four tiger sharks since February 1 and released 34 – 28 of which were tagged to assist with research and shark tracking.
Undersized
Nine undersized sharks – two mako and seven tiger sharks – have also been found dead on WA drum lines, while one dead tiger shark pulled off the lines at Rocky Point in the South West was listed as "approximately" three metres.
How long will this policy go on?
Leave your submission here to protest the Shark Cull!
Read more on the Shark Cull on WAToday.