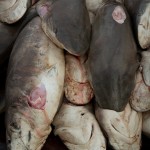 HONG KONG (CHINA)- Good news for sharks worldwide. The shark fin trade is on its way back. The world's biggest hub in shark fin trade, Hong Kong, has seen its imports drop by 30 procent in the past year. 
Hong Kong imported 1,162 tons of shark fins in 2012, according to government figures. That's roughly half of the world's shark fin harvest.
The drop in the trade is caused by long-running environmental campaigns worldwide.  Other reasons are the slowing economy and the crackdown on corruption and lavish entertaining among mainland Chinese officials. These officials see shark's fin as a prized banqueting delicacy.
In january photos of rooftops in Hong Kong filled with dried shark fins led to outrage worldwide on the shark fin trade. Also through campaigns awareness is growing. Although shark fin soup is still very popular Chinese dish, more and more people are aware of the barbaric fishing practices. A campaign by 60 advocacy groups, including Greenpeace, and Humane Society International, led major airlines to introduce a total ban on shark fin haulage last year, with Emirates announcing its support just last week.
Read more at Time Magazine.
See the shark fins on the Hong Kong rooftops: