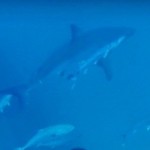 SANIBEL ISLAND (USA)- A group of divers ran into an unexpected meet with a great white shark while diving in the waters of the Gulf of Mexico, about 80 miles of the coast of Sanibel Island, Florida. 
It is known that great whites venture into the warm waters of the Gulf, but how often is still unknown. Ocearch recently was tracking a great white in the area around Sanibel Island.
The divers were about 100 feet underwater when they shot the video of the shark.