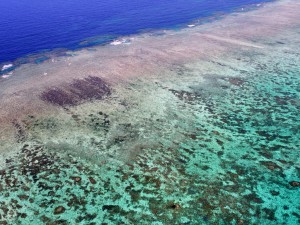 PORT DOUGLAS (AUSTRALIA)- A 18-year old man was killed by a shark while spearfishing on Australia's Great Barrier Reef. Local media say the man was mauled to death while fishing with friends off Rudder Reef, near the eastern Australian tourist town of Port Douglas.
The young man from the nearby town of Mossman died of severe blood loss after sustaining serious injuries to his right upper leg, right groin and right upper arm. He was pronounced dead shortly after he was brought to shore in a boat by his friends, who attempted to resuscitate him. He also suffered a heart attack, likely due to blood loss.
Shark attacks in this region are very rare. What type of shark killed the young man remains unknown.
Fatal attacks
This is the first fatal shark attack in Australia since September, when a 50-year-old swimmer was killed at popular Byron Bay, 1,600 kilometers (1,000 miles) to the south. In February, another man was killed in a shark attack while spearfishing off the Goldsmith Beach, near Yorke Peninsula, toward Adelaide's west.