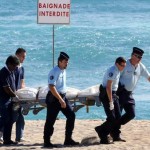 REUNION (FRANCE)- The tropical isle of Reunion in the Indian Ocean is turning out a real hot spot for shark attacks. Yesterday a 24-year old surfer got his leg bitten off by a shark. The man is in the hospital, fighting for his life. Earlier this year two people died from shark attacks.
The incident saturday happened at no more than 20 meters from the beach.
The authorities said the latest victim, a local man, was outside the protected perimeter. They urged beachgoers to exercise the utmost caution. Some argue that the growing amounts of wastewater poured into the sea attract sharks while others blame a marine reserve where fishing is banned for the spike in attacks in recent years.