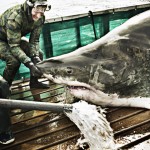 RALEIGH (USA)- Amy Lee, a 3,500-pound great white shark has returned to the Carolina coastline.
A ping from a satellite tag on the 16-foot-long shark showed she was just off the coast in Murrells Inlet last Friday morning.
Since being tagged last September, researchers from Ocearch say Mary Lee has traveled more than 13,285 miles along the east coast. The data show Mary Lee has been as far east as Bermuda and as far south as Jacksonville, Fla.
Mary Lee headed north in January. Scientists know little about great whites and they are not quite sure why Mary Lee headed north so quickly.