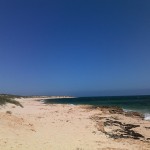 EXMOUTH (AUSTRALIA)- A 60-year old woman was attacked by a shark at Turquoise Bay about 60km south of Exmouth, Western Australia. What type of shark was involved in the attack is not yet known.
The woman was bitten on the arm and was transported from Exmouth Hospital to Perth for treatment where she is expected to undergo surgery.
Turquoise Bay in Cape Range National Park is a popular tourist destination for snorkelling.
It is the third shark attack in Western Australia this month. Last week a 4m-long shark bit off a scuba diver's fins off Little Island, and earlier this month an abalone diver Greg Pickering was attacked by a shark east of Esperance. This man needed 10 hours of surgery to mend his face, neck and upper body.