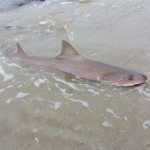 HARDERWIJK (The Netherlands)- It's a rarity: a shark washed up on the Dutch beaches. On the island of Vlieland a live starry smooth-hound (Mustelus asterias) was found washed up. The small shark caused quite a stir in the local Dutch media. Last weekend the shark unfortunately died of a head wound.
A passerby spotted the shark and tried to push it back into the sea, but the shark kept washing back up, presumably unable to make for open sea because it was exhausted. The survival rate is not very high. After being found the shark was taken to the nature center Dolfinarium in Harderwijk where experts were assessing the shark's condition. They wanted to return to the wild as soon as possible.
The rare shark was about 40″ in length and is wounded on its nose. The starry smooth-hound's habitat is the North Sea near Denmark. The fact that the shark was still alive when it was found makes the find even more rare.