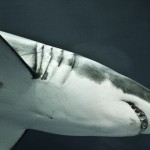 CAPE TOWN (SOUTH AFRICA)- A newlywed couple, cage diving off the coast of South Africa got the scare of a lifetime when a great white shark ignored the bait and went straight for the cage.
With its head the shark entered the cage, threshing about. The couple got a with quite the scare.
A tourist who watched filmed the incident and put on YouTube. It went viral with over a million views.
A Gansbaai company has reduced the size of its shark cage viewing gap by 10 percent after the incident. great white managed to ram its head into a safety cage holding a group of tourists.
See the video at ABC News: