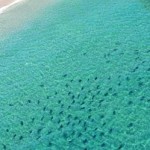 PERTH (AUSTRALIA)- Beaches in Perth, Western Australia, were closed this week when a unusually large group of sharks was spotted just offshore. by a chopper crew.
Around 100 sharks were spotted just one-third of a mile off a popular beach. The crew of a rescue helicopter spotted the animals while they were feeding on a school of bait fish. A local beach manager called the size of the school, also known as a shiver,  "absolutely unusual."
See the video shot from the chopper.

Chopper sees big shark group near beach