ISLE OF LEWIS (SCOTLAND)- Some scientists are certain that great whites also visit the cold British waters. To prove that the sharks are lurking here as well they use the body of a dead whale as bait. Cameras attached to the giant corpse will, it is hoped, record the first confirmed sighting off a Great White in UK seas.
A TV company got hold of the seven-ton female humpback in June after it got caught in creel ropes off the coast of Caithness and drowned. It will now form part of a ground-breaking documentary, which will star TV personality Ben Fogle.
The decomposing dead whale will be dragged hundreds of miles up the west coast of Britain with a tiny group of islands off Lewis, possible favorite spot for great whites. The stinky hulk was transported from Caithness by truck to Shropshire in England, where it was stored for over two months.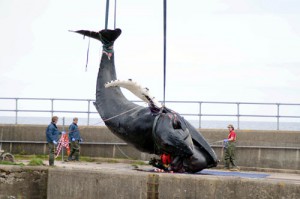 Shark expert Richard Pierce, chairman of the Shark Conservation Society, is going along as a specialist adviser. He has investigated over 100 claims of Great White shark sightings in Britain but said less than 10% of them were credible.
Read more on Deadline News