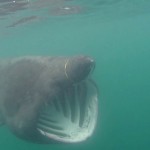 ISLE OF SKYE (SCOTLAND)- A new research program tracks basking sharks of the west coast of Scotland. This region is a hotspot for the great gentle giants of these cold waters. The data will be used for the assessment of the region as a potential marine reserve.
Basking sharks appear every summer around the isles off the west coast of Scotland and are observed feeding, as well as engaging in social behaviour and breaching leaping out of the water. The area therefore seems to be important for key life cycle stages of basking sharks.
Marine Protected Area
Because of this, the area from Skye to Mull is now being assessed for its potential as a Marine Protected Area (MPA), along with other candidate areas as part of the Scottish MPA Project.
Shark movement
Scientists want to reach a greater understanding of shark movement, behaviour and habitat use. This will add confidence to the existing evidence and help to properly assess how useful the Skye to Mull area would be as a MPA and if so, how big the area should be and where the boundaries of the MPA should be.
The tagging project, which started in July, was set up to find out more about the life cycle of the large numbers of sharks that gather around the islands of Coll, Tiree and Canna every summer.
Some of the 20 sharks tagged last year stayed in the area between 5 and 57 days before the tags detached, the sharks moved deeper or they swam south.
Depth data collected so far has shown that sharks mainly occupy the top 250m of the water column, although two sharks were recorded down at 1000m, off the edge of the continental shelf.
See the tracked sharks and read more on the project.