NEWCASTLE (AUSTRALIA)- The coastline of Australia's New South Wales is living its 'summer of sharks' with the beaches of Newcastle being closed for the seventh day in a row after sharks continue to be close to the shore.
A big great white shark of at least 5 meters keeps patrolling the beaches of Newcastle. A 22-year-old local surfer told The Newcastle Herald the shark was ''as round as a car'' with a fin ''more than half the size of my surfboard''. Local media has started calling it 'Big Bruce'.
Several additional sharks have since been spotted and at least two dolphin carcasses have been found around the city, which is about 100 miles north of Sydney.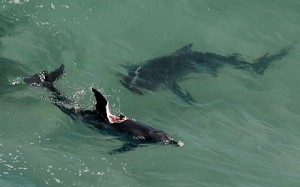 Shark attacks dolphin
And now some terrible photographs turn up of a big shark killing a dolphin off Burwood Beach, Newcastle, not far from where divers were spearfishing. The attack on the dolphin was done by a tiger shark, which took a chunk from the dolphin's back and then lunged forward for a second bite to take a chunk out of its tale. The shark then reportedly hung back and waited for the dolphin to die before feeding on it.
Barry Bruce, a marine scientist with the national science agency CSIRO told The Telegraph , that the presence of a great white shark in Newcastle is not unusual because the area is "a well-known and well-published white shark nursery".
But this summer there has been an unusually high number of beach closures, ncluding at popular beaches such as Bondi in Sydney. Most shark attacks in recent years were on the other side of the continent though, in Western Australia.
Yesterday a boy was attacked in the area of Newcastle by a wobbegong shark while spearfishing.
Read more and see the attack photos at The Telegraph.