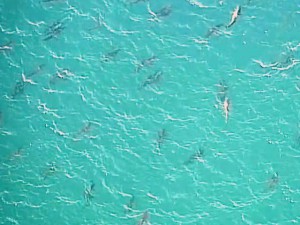 BREVARD (USA)- Eastern central beaches of the US state of Florida are being visited by big schools of sharks. August and september are primetime months for sharks in these waters.
They follow massive schools of mullet, anchovies, herrings, and sardines that are migrating along Brevard County and other east Central Florida beaches. Blacktip, blacknose, spinners and sandbar sharks follow by the hundreds to pick off their meals.
And with lots of people in the water this could mean accidents, where human limbs are mistaken for prey. While the overall risk of being bitten by a shark is extremely low, the highest rate of shark bites in Florida is in Volusia, Brevard and Indian River counties. About a third of Florida's shark attacks happen in August and September.
"It's 9-fold the shark attack rate of the rest of Florida," said Raid Amin, a professor of at University of West Florida's math and statistics department, on Florida Today. Ramin wrote a 2012 research paper about the risk.
Despite all the hypes of this 'shark attack capital of the world' this year's shark bites aren't statistically anything beyond the norm. According to the International Shark Attack File at the Florida Museum of Natural History the Florida total will probably be similar to that of last year.
Florida had 23 shark attacks last year and 27 in 2012.
See a video of a shark in the waves Patrick Air Force Base: