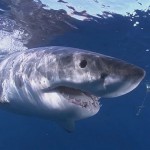 EUREKA (USA)- A 25-year-old man suffered life-threatening injuries past tuesday when he was attacked by a great white shark while surfing in Eureka, California.
Other surfers helped the man out of the water and rushed him to the hospital before local beach patrol could respond.
According to witnesses the man was bleeding badly from abdominal injuries. An emergency medical technician was one of those who immediately helped the surfer on the beach care for his wounds, which ran from his ribs to below his hips.
The attack was believed to be by a great white shark, according to officials. It came just a week after another surfer was killed by an apparent great white while surfing north of Los Angeles near Lompoc.