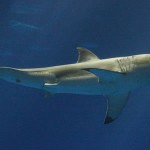 CHARLESTON (USA)- A satellite tracking system identified a 16-foot great white shark several miles inland inside the mouth of Charleston Harbor, South Carolina.
The shark's appearance in a branch of the Wando River, several miles inside the mouth of Charleston harbor and the Atlantic Ocean, caused a lot of stir. Social media sites were full of chatter about it.
Tidal zone
Scientists say it's unlikely the huge fish went further inland than the tidal zone where it was discovered. Marine biologists tagged the shark off Cape Cod in September.
But the Ocearch satellite tracking system, while widely praised as a way to follow shark movements, contains a margin for error. And in this case, that's likely the reason for the report, experts said. It would be highly unusual for a great white to venture into a Southeastern tidal creek, said scientists from Massachusetts and South Carolina.
Still, the satellite tracking is accurate enough to show the general location of the shark – and it clearly was in South Carolina waters.
Moving south
Scientists aren't sure why great whites move south this time of year. It's likely to be that the sharks follow schools of fish, need a place to reproduce or simply prefer to get out of New England's icy winter waters.
Great whites have never been a threat to humans in North Carolina. The're here only when the water cools off and people stop swimming in the ocean.
Read more at the Charlotte Observer