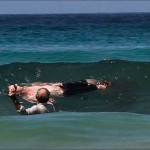 JEFFREYS BAY (SOUTH AFRICA)- A 74-year old man was killed while snorkeling off the coast of Jeffreys Bay, South Africa by what is believed to be a great white.
The man was an experienced open-water swimmer who regularly swam along the coastline of Jeffreys Bay. He was snorkelling in a popular surfing area at the Eastern Cape of South Africa last Friday, when he was attacked by a 12 ft shark and carried off into deeper waters.
Several bites
The attack was a real horror scene. First the shark took several bites out of the man, but was scared off by a surfer who kayaked to the scene and beat the enormous creature away with his oar. The shark was not deterred though and came back for a second attempt and was only scared off from the body by rescue vehicles.
According to JBaynews.com, the surfer said he witnessed the shark take bites out of the swimmer, then grabbed the torso and went underwater with it.
Large
It was initially thought that there were two sharks involved in the attack as the distance between the giant predator's tail and dorsal fin was so large.
Fatal attacks
It was the first fatal shark attack ever to have occurred in Jeffreys Bay. According to the International Shark Attack File report, three people were killed by sharks last year in South Africa.
Read more at International Business Times.