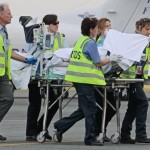 ESPERANCE (AUSTRALIA)-  Australian authorities have released a catch-and-kill order for the sharkt hat attacked and seriously injured an abalone diver off the coast of Esperance earlier today.
The man was treated at the hospital for bite wounds, mainly to his torso, and was stabilised. He also has minor injuries to his face.
Great white
There have been unconfirmed reports from other divers that the shark that attacked was a great white.
Threat
Department of Fisheries said the order was necessary because of "imminent threat of further attack".
The experienced diver had been attacked by a shark before.In 2004, he survived an attack by a 1.5m bronze whaler while spearfishing with a friend near Cervantes.