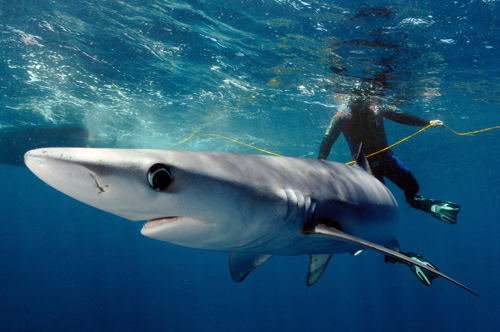 SALOU (SPAIN)- In the waters of the popular Catalan resort town Salou a 16-year old boy was attacked by a shark. The boy was playing with an inflatable mattress in shallow water when he was bitten on the right hand. He needed thirty stitches.
Witnesses could not exactly identify the species that attacked the boy. Some described it as a blue shark (Prionace glauca), a wide-ranging species common in the Mediterranean Sea. Normally blue sharks don't come too close to the shore.
This summer though beaches on the Costa Brava, northern Spain, and in France have been closed after blue sharks had been spotted just metres off the shore.
Blue sharks
Fast-moving, highly migratory blue sharks usually eat fish although they are known to sometimes go after larger prey. Blue sharks, can weigh up to 80kg (175 pounds), can become aggressive if they feel threatened but rarely attack humans.
As of 2013, blue sharks had only ever been implicated in 13 attacks upon humans, four of which ended fatally.
Salou town hall expressed its regret over the incident which it described as "isolated" according to Catalan daily newspaper La Vanguardia.