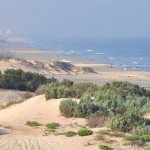 ASHDOD (ISRAEL)- A 27-year-old man was bitten by shark, while working on an offshore fish farm in Ashdod, about 7 kilometers off the Meditterranean coast of Israel.
The victim was in deep water when the shark attacked him, leaving deep wounds from his forearm to his hand. The man was apparentl trying to clear the shark from the fish cage, as was reported in the press. A colleague pulled him out of the water and he was taken to shore in a boat. He was treated in a Tel Aviv hospital.
Protected
The Israel Nature and Parks Authority estimates that there are about 20 species of sharks in Israelian waters. and that all of them are protected from fishermen by Israeli law. But this doesn't stop poachers from fishing for sharks off the southern coastline and selling the meat in the Gaza Strip markets.
Mediterranean
Shark attacks in the eastern Mediterranean are very rare. It is common to see sharks in offshore fish farms, where they come to feed on the fish stalking around the cages, eating leftover fish food.
Shark sightings
Though shark sightings in Israel are rare, there have been outstanding tales in recent years, including last February, when two Acre fisherman, pulling into the port, found a 3-meter shark thrashing about in one of their nets.
The fish quickly became a short-lived tourist attraction, and pictures of local boys posing with the razor-toothed shark were splashed across the press.
Read more at Jerusalem Post