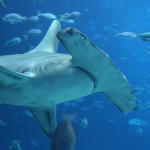 HONG KONG (CHINA)- Sharks are not meant to put in aquaria. Proof for that was given again at Ocean Park in Hong Kong where six female hammerhead sharks died within seven hours of each other.
The remaining eight sharks in the Grand Aquarium "are also at risk" and their conditions are being monitored. The six sharks, all females, weighing 45-60 kilograms, were found swimming abnormally yesterday morning, the park said.
The park is performing necropsies to establish the cause of death.
No wounds
The six sharks had been eating and appeared healthy the day before and had no external wounds.
A total of 15 hammerhead sharks from a Japanese fishery were introduced to the Grand Aquarium in late 2010. One of them died soon after.
Marine expert Samuel Hung Ka-yiu told to the Hong Kong Standard a group of sharks dying within a short time is very rare.
He guessed it might be due to a viral infection, adding that living in an aquarium is not suitable for sharks.
Hammerheads were classified as endangered commercially valuable sharks in March by the Convention on International Trade in Endangered Species of Wild Fauna and Flora.