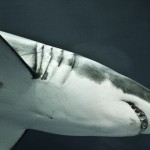 PERTH (AUSTRALIA)- West Australian Fisheries officers have this week been baiting the waters 250 km south of Perth in order to catch a great white sharks uspected of having established itself at unpatrolled swimming beaches along this since Christmas.
Fisheries staff in two boats have this week set baited lines for the 3-4m shark under a standing order from Fisheries Minister Norman Moore to kill any shark that poses an "imminent threat
Government-ordered shark kill
If they succeed, it would be the first government-ordered shark kill since the Barnett government of West Australia introduced the "imminent threat" guidelines last year in response to five fatal shark attacks in just 10 months.
Shark sightings
The Fisheries Department made the decision on Sunday because it believes repeated shark sightings in the southwest since Christmas are in fact just one shark.
There have been sightings close to shore almost every day for the past 10 days around Quindalup and Meelup beaches, Eagle Bay and Bunker Bay in the Dunsborough-Cape Naturaliste area, 250km south of Perth.
Baited lines have been set for sharks twice before by fisheries officers — once after the death of diver Peter Kurmann, 33, near the southern town of Bunbury in April, and after American George Thomas Wainwright, 32, was killed by a shark while scuba diving off Rottnest Island in 2011.
Beaches cleared
The lines are weighted with an anchor and surface floats to exhaust the shark, which would then be pulled alongside a boat and shot with a powerhead firing mechanism, often referred to as a "smokey".
The water was cleared at Eagle Bay yesterday after the Surf Life Saving helicopter spotted a 3m white shark nearby. Swimmers were also told to get out of the ocean at Perth's Leighton Beach, where a 4m tiger shark was seen feeding on bait fish 80m from shore.
Professional fishermen have praised the government for taking action. But the Conservation Council of Western Australia questioned the imminent threat.