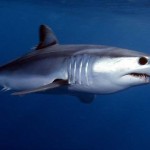 AUCKLAND (NEW ZEALAND)- The New Zealand National Institute of Water and Atmospheric Research (Niwa) is impressed by the distance a mako shark which they have been tracking for a while. They named her Carol.
The last few months have been busy for the mako shark. After spending spring in Fiji, October near the Coromandel Peninsula and November off the East Coast she opted to celebrate Christmas Day in the Cook Strait. At the moment she's making quick time towards Kaikoura.
The mako shark is the fastest of the world's shark species and found in waters all around New Zealand. They can weigh up to half a tonne and their diet usually consists of schooling fish and squid.
Mako sharks, targeted for their highly-prized fins and their good-quality flesh, are listed as "vulnerable" on the International Union for Conservation of Nature list of threatened species.
Read more at Stuff
Or follow Carol here.