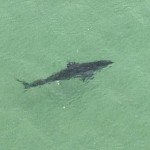 PIEDRAS BLANCAS (USA)- Friends of the Elephant Seal have recently teamed up with researchers from Hopkins Marine Station to deploy a buoy off Piedras Blancas. According to The Cambrian is tracks tagged white sharks near the elephant seal rookery about 12 miles north of Cambria.
The buoy, deployed on Saturday, Oct. 12, can detect any of the 100-plus white sharks that Block's team has tagged off the California coast if they enter the area around Piedras Blancas. The information will be linked with the free iOS app Shark Net to bring the information to the public.
The buoy is part of a array of buoys positioned near Point Reyes, the Farallons, Año Nuevo and now Piedras Blancas as part of the Global Tagging of Pelagic Predators project.
Read more at The Cambrian