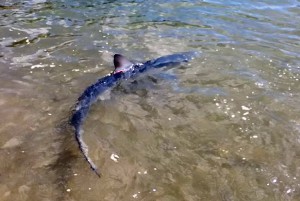 MANACCAN (UK)-  A blue shark was found, far from his offshore habitat, in a secluded creek in British Cornwall. A group of boat hands rescued the shark who was found thrashing about with a hook embedded in its dorsal fin.
The three boat hands from Sailaway St Anthony boat hire in Manaccan, near Helston, decided to paddle out to help it. They managed to dislodge the hook before guiding the distressed fish back to deeper water where it swam away.
Read more and see photos at Western Morning News.
This summer blue sharks pop up at different European beaches, such as in Northern Spain, off the Cote d'Azur in France and in Corsica. Beaches have been closed in these places out of precaution.
In Corsica a boy filmed a blue shark just metres off the beach. See the video: