With idyllic landscapes facing the sea, Reunion Island is a destination that naturally invites visitors to relax, enjoy, and dream. But recent years the beautiful seas surrounding the island became also known as somewhat of a hotspot for shark attacks. Beaches were closed and swimming was forbidden. Until now. 
Yesterday, the prefecture lifted the no swimming order for the beaches of Boucan Canot after an anti-shark safety net was installed and had been monitored and inspected to ensure it was impenetrable. Swimming, surfing, bodyboarding, and other water sport activities have subsequently resumed. The green "all clear" flags were raised at this beach, officially signaling the end of the banning order. This is a major step for Reunion Island tourism, as visitors can now resume a full range of beach activities on one of the island's most popular beaches.
With a length of 1,200 meters, the net is placed 200 meters from the shore in the open Indian Ocean. It is held by steel cables anchored to the ground at 11 meters in depth and protects an area of 141,000 m² in total, the equivalent of 67 Olympic swimming pools: enough to fully enjoy the pleasures of the Indian Ocean with confidence!
The protection of the underwater environment on Reunion Island is of paramount importance to the local government as well as the island's tourism industry.
The net is composed of mesh 40 x 40 centimeters, which allows passage of juvenile marine species.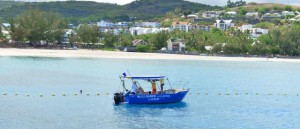 Other beaches presently still under red flag will also soon be outfitted with such nets, starting with the beach of Roches Noires in Saint-Gilles-les-Bains and then followed by the beaches of Trois-Bassins and Egrets.
For more information about the island's many tourism attractions, click on www.reunion.fr