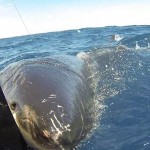 MELBOURNE (AUSTRALIA)- Three fishermen off the coast of Australian state Victoria have captured on film the moment a 5m great white shark attacked their tiny fishing boat.
The three men were tuna fishing at Cape Nelson, off Portland, near the Victorian and South Australian border, when the huge shark started to circle the vessel.
They said it then suddenly became aggressive and tried to take a bite out of the boat. The anglers said they may have pushed their luck with the shark, trying to touch it as it circled.
Read more at Herald Sun