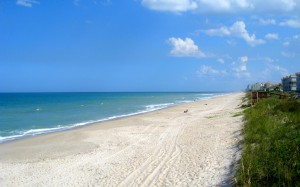 INDIAN HARBOUR (USA)- A 44-year old man was bitten by a a two-feet long shark while paddling offshore of Indian Harbour Beach.
The man suffered a bite to his left hand and was seen bleeding as he made it back to shore. Brevard County Fire Rescue paramedics and Ocean Rescue lifeguards helped the man with the injury before he was taken to Holmes Regional Medical Center for further medical treatment.
The shark took a chunk out of his hand. Right after the man was taken to the hospital a dozen surfers went back into the ocean for the waves.