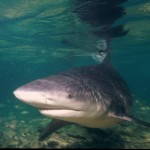 NOOSA BEACH (AUSTRALIA)- A beach was closed rapidly when one shark was chasing another out of the water. Lifesavers pulled out a dying 2 meter long bull shark onto the beach.
Noosa Surf Club lifesavers on Queensland's Sunshine Coast  quickly closed the beach after a surfer saw a large bull shark chasing a "sick" shark, and the body of a bull shark washed up on the sand.
The bull shark was chased out of the water by a 4 meter long shark. It appeared the larger shark was chasing the sick shark and it wallowed in the white water for a fair while with people looking on.
Sharks are said to be rare at Noosa Beach. Yet a large tiger shark, possibly three metres long, was spotted patrolling the waters of Noosa National Park in January and a 4.78m pregnant tiger shark weighing 500kg was captured off nearby Yarooma Beach.
Scientists say bull shark sightings increase following floods because of the species'  breeding habits.
Read more at the Herald Sun.