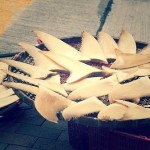 AUCKLAND (NEW ZEALAND)- Air New Zealand is the the latest airline to stop flying shipments of shark's fin to Hong Kong, the shark's fin capital of the world.
The decision came about after the New Zealand Shark Alliance revealed the airline's shipments in local media.
Earlier, other airlines did the same, such as Cathay Pacific. Air Pacific, soon to be Fiji Airlines, was accused last week by conservation groups of being one of the world's major carriers of shark fins into Hong Kong..
Prominent hotels and restaurants in the city –like the Peninsula Hotels Group-, have been publicly striking shark's fin from their menus, while Hong Kong's main carrier Cathay Pacific also announced a ban on shark's fin cargo last September.
Approximately 72 million sharks are killed each year and 10,000 tons of fins are traded through Hong.
Read more at CNN.