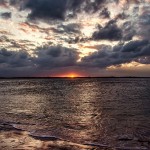 NEW SMYRNA BEACH (USA)- The self pronounced "Shark Bite Capital of the World", New Smyrna Beach in Volusia County in the state of Florida, has had its first bite of the year.
A 21-year old surfer was paddling out to catch some waves when a shark bit the surfer in the hand last weekend. The surfer was treated at the scene.
According to local Volusia County Beach Patrol conditions in the ocean were perfect for a shark bite. The waters were murky and there was lots of bait fish in the inlet of where it happened. A perfect recipe for shark bites.
The inlet is not only a popular area for surfers because of the waves but also popular with sharks because of the abundance of bait fish. The outflow of a river in the inlet brings in some murkier warmer waters, that also harbors a lot more bait fish. With that combination with some nice waves and several hundred surfers in the water, an interaction between humans and sharks was bound to happen.
Several surfers near the inlet said they saw plenty of sharks swimming near them. Beachgoers were are asked to get out of the water when there are multiple sightings of sharks swimming near bathers.