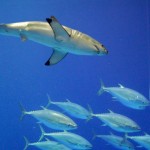 MIAMI (USA)– Marine scientists from the University of Miami encountered an unexpected guest in the warm waters off the Florida Keys: a great white.
The RJ Dunlap Marine Conservation Program, was doing a routine sampling of shark population on the water just east of Islamorada when they hooked a 10-11-foot great white shark.
The shark, swimming in approximately 100-feet of water, wasn't tagged nor could the team take samples because the line snapped as they tried to reel it in.
Although great whites are not frequent visitors of the subtropical coasts of Florida they are spotted more often lately. Still, sightings of a great white is rare in South Florida as they prefer colder waters.