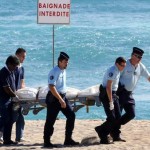 SAINT-DENIS (REUNION)- A 15-year old girl was killed this week after being attacked by a shark in the waters off the tropical isle of Reunion. She was snorkeling just a few metres from the shore.
The area she was swimming in, Saint Paul's Bay , in the northwest of the island, is an unsupervised area where bathing is forbidden due to high shark numbers, officials said. A friend swimming with her was unharmed.
It was the second deadly shark attack this year off the French island, which is just east of Madagascar, and brings to five the total of shark-related deaths there since 2011.
It was the first time in at least three decades that a swimmer, rather than a surfer, was killed by a shark off the island.
Local authorities this month renewed safety warnings after an increase in shark numbers. Six years ago a marine reserve was set up near Saint Paul's Bay. Also shark fishing around the island has decreased since 2009 because of a toxin currently found in their flesh that causes food poisoning. Locals say tiger and bull shark populations have multiplied as a result.
A spate of shark attacks last year off La Reunion prompted France to hire a team of professional fishermen to kill around 20 of them but Paris has refused to mount a more widespread cull.