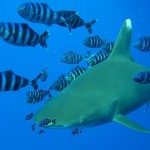 ABERDEEN (SCOTLAND)- A research team from the University of Aberdeen has received 1,5 million British Pounds of funds for their work on developing anti-cancer and anti-inflammatory drugs from research based on the immune systems of sharks .
Scottish Enterprise and the Biotechnology and Biological Sciences Research Council awarded the money.
The team has received the financial backing to develop man-made proteins closely related to structures found in sharks.
Structures called variable novel antigen receptors (VNARs) are found in the shark immune system. The team has produced more than 10bn of these molecules, and say their drug library is the "equivalent to having access to 10,000 sharks without needing to keep a single animal in an aquarium".
Read more at BBC News