GUANGZHOU (China)- Based in the city of Guangzhou, the world's largest trading hub for shark fins, China Southern Airlines has banned shark fin shipments and promised to "actively participate" in animal conservation.
China Southern's ban will no doubt send a strong message to the many Guangzhou shark fin traders that their business activities are often illegal, but always unethical, immoral, cruel and unsustainable.
In a letter to WildAid Hong Kong China Southern's vice-president Han Wensheng said the company "attached great importance to the issue" and had "taken immediate action".
Over half of international airlines shark fin free

Air China becomes first mainland carrier to ban shark fin cargo. With China's mainland's biggest carrier saying no to the terrible trade, it narrows the options for Chinese importers. 51 per cent of international airlines, based on seat capacity, have now banned the cargo. Flag carrier Air China had already banned shark fin, leaving just China Eastern among the big three state-owned airlines yet to declare a position. Robust campaigning by wildlife activists over the years has also led the nation's largest shipper and logistics firm, China COSCO Shipping, to come onside.
Other carriers making the same commitment include Hong Kong-based Cathay Pacific Airways, British Airways, American Airlines, Emirates and Singapore Airlines.
Worldwide, 17 of the 19 biggest shipping lines measured by container capacity have banned shark fin, impacting 71 per cent of the global market. Notable signatories include Maersk, the world's biggest, and former Hong Kong chief executive Tung Chee-hwa's family company Orient Overseas Container Line, better known as OOCL.
FedEx and United
Questions remain on why United States air carriers FedEx and United Airlines still continue to ship shark fin, often illegally. More than a dozen protesters descended on a press conference held by FedEx on Thursday to protest about shark fins as the company launched an online service in Hong Kong to tap into the burgeoning e-commerce and online shopping market.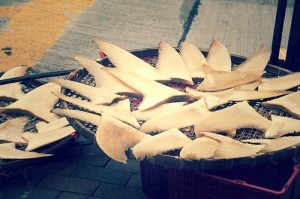 Environmentalists have long campaigned against the trade in fins – a staple at weddings and banquets – saying the harvesting methods are cruel and that shark populations have declined dramatically.
Read more at South China Morning Post