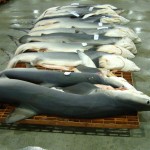 SAN FRANCISCO (USA)- California's ban on possession or sale of shark fins still stands. A federal judge upheld the ban, rejecting claims that the law discriminates against the Chinese community in the state. Shark fin soup is a traditional delicacy in this community.
Also the claim of interfering with federal management of ocean fishing was rejected. The California law against shark finning passed in 2011 but took full effect only last summer, making selling and serving shark fin soup illegal.
Chinese Americans
It was challenged by Bay Area organizations of Chinese American businesses and by shark fin suppliers, who argued that the legislation targeted the Chinese community and exceeded the state's authority to regulate fishing. The suit briefly gained support from the Obama administration, which filed arguments last year saying that the state law was at odds with federal fishing laws. Those laws prohibit shark "finning," the removal of fins from live sharks, but do not prohibit possessing or selling shark fins. The administration said the California law hindered a commercial market that federal regulations were intended to preserve.
Shark fishing
But the Obama administration changed its position after discussions with state fish and wildlife officials and told the court the two laws could be harmonized, with federal regulations governing shark fishing and the stricter California rules applying within the state. U.S. District Judge William Orrick III of San Francisco noted the government's reversal in Tuesday's ruling upholding the state law.
Read more at SFGate.