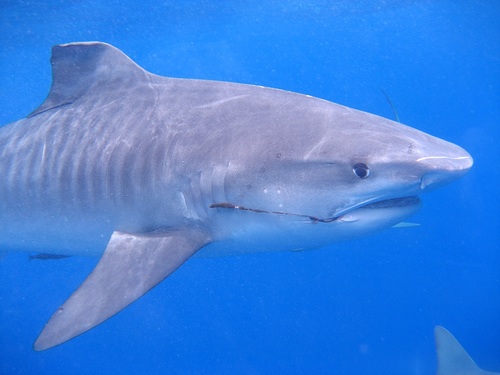 RECIFE (BRASIL)- Football fans visiting the Brasilian city of Recife for the World Cup may not know that the city is famous not only for football or colonial history, but als has a rep for being one of the most dangerous places in the world to swim. The risk of shark attacks is high if you look at the past few years.
Fans are being met by warning signs in English and Portuguese, and newly-built watchtowers where lifeguards keep a close eye on bathers.
Boa Viagem
The Boa Viagem beach suffers a high number of shark attacks and an above-average number of fatalities, and local authorities are keen to avoid any incidents during the World Cup.
Concentration of sharks
"In the 20 kilometres of beach we have in the state of Pernambuco, we have an atypical concentration of sharks, above the world average," the local lifeguard captain Helder Silva told Reuters. "Across these 20 kilometres of coastline we've had 59 incidents over 21 years, which is considered above the world average for attacks."
Bulls and tigers
The waters off the coast of the capital of the Pernambuco region are mainly populated by bull and tiger sharks, which Silva says are attracted by the jetsam emptied into the sea by two local rivers.
In July 2013 an 18-year-old Brazilian tourist from São Paulo, Bruna Gobbi, died after she was bitten on the leg by a shark at the Boa Viagem beach.
Read more at The Guardian.