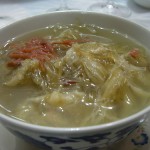 HONG KONG (CHINA)- It was standard on the menu of every wedding banquet in Hong Kong. But the appetite for shark fin soup is fading. 90 percent of people say they could, or would, go without it, according to the Hong Kong daily The Standard.
That's what a survey of Junior Chamber International concludes. Over a thousand people in Hong Kong were interviewed.
Shark fin soup
The number of people who have eaten shark fin in the past 12 months has also dwindled. In 2011, 6 percent of respondents said they had not consumed any shark fin dish over the course of the year while 39 percent had gone without it in the latest survey.
Environment
The main reason for the abstention was to support the environment and ecology – up from 57 percent in 2011 to 71 percent this year. The high price was another reason given, jumping from 37 percent two years ago to 81 percent in 2013. Also, the number of people quoting no shark fin campaigns almost doubled – from 59 percent in 2011 to 95 percent.
No shark fin
51 percent said they would be willing to go without the dish while 40 percent said they could accept a "no shark fin" wedding banquet. Only 1 percent said they absolutely could not accept a banquet without a shark fin dish.
In 2011, only 20 percent said they would embrace a no shark fin wedding banquet while 59 percent said they could accept a banquet without it.
Dried fish
Most of the respondents (89 percent) said they accepted dried fish maw as a replacement. It was followed by sea cucumber (82 percent), bird's nest (80 percent) and caterpillar fungus "winter worm" (80 percent).
Campaigns against eating shark fin have gained ground in recent years, with top hotel chains dropping the soup from menus. The Save Sharks Project is happy to see that more people are prepared to abandon shark fin soup.
Cultural habit
But there is still no reason to celebrate. Eating shark fin soup is a cultural habit that is still strong. 84 percent of the 1,022 people interviewed in May and June said they had served or been served with shark fin at wedding banquets. A further 5 percent served the dish at birthdays.
In 2011, only 30 percent said they had shark fin at weddings and 19 percent at birthdays.