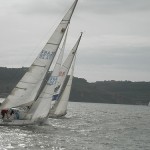 FREMANTLE (AUSTRALIA)- Aerial shark patrols have been stepped up at the ISAF World Sailing Championships and rules changed for the competion after a large great white was spotted in the area where the competitors launch their boats each day.
Last tuesday a large, probably white, shark had been swimming around Fremantle Fishing Boat Harbour, where the boat park for the championships is based. It was seen by a fisherman. Immediately the aerial patrols over the sailing courses were increased on Wednesday.
Western Australia is very focused on what moves beneath the surface of its coastal waters, after the three fatal shark attacks in the southwest in recent months and several near misses. Before the sighting organisers were already hypersensitive to the shark threat posed to competitors.
New rules
This is part of the reason why the competition changed the racing rules for the Perth 2011 ISAF World.  Sailors who need assistance to get back into their boats after a capsize don't get penalised, like normally. Under the new rules, official boats are now allowed to intervene if sailors are separated from their boats. This would usually contravene the outside assistance rule, but Lissiman said it was necessary considering people's concerns.
Read more at Yahoo Sports